iPad 9.7" 2018
February 25, 2020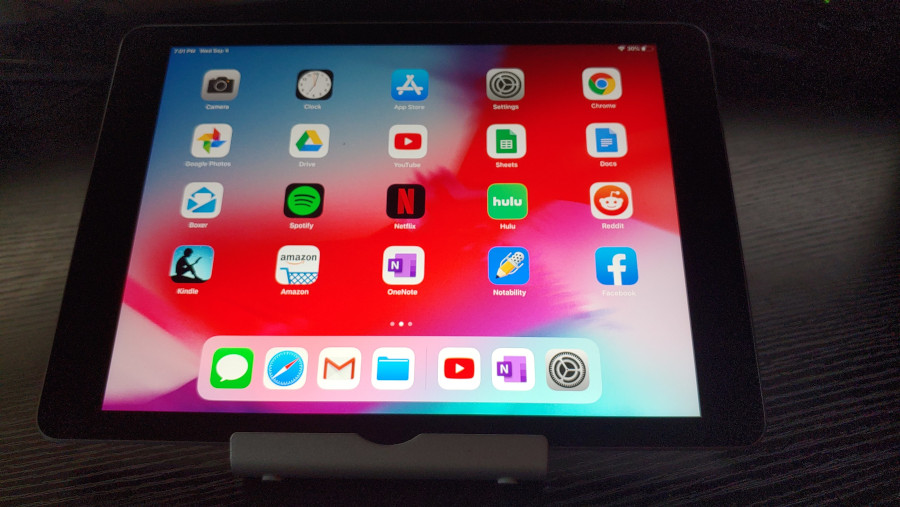 In 2019, after going through three different Kindle Fire tablets, I finally decided to purchase an iPad. There are plenty of reviews of this tablet, so I am not going to go over specs and do a true review of this device; after the release of the newer iPad, I am a too little, too late. But I would like to give my thoughts on the device, and why I decided to go with this device.
Don't get me wrong, the Kindle Fire 10 HD is a solid tablet, if what you are doing is some light surfing, reading, and streaming video. The screen is bright and crisp. The device is performant in a way that the Kindle Fire 8 is not. The expandable storage would be useful if you were going to really load it up with apps and video or music. But that is about where it ends.
What initially pushed me to want the iPad over the Kindle Fire 10 HD was the pen support. I suffer from some repetitive stress strain in my right forearm. When I type for a long period of time, which I do at work responding to emails and Skyping coworkers, I start to feel soreness. I did not want to use note pads to make to-do lists, because I have to keep getting new ones, and it is hard for me to go back and add more notes to previous pages. I started using OneNote on the work laptop, but that was even more typing. The iPad was an opportunity to have digital inking and keep myself organized, and not have to type. I use my iPad almost every day for work to do just this. It really helps my arm and has helped keep me organized.
Another reason I went with this one, rather than an iPad Air or iPad Pro was price. This device is for simple tasks, and I don't need the latest power to do it. I was able to find the iPad on sale for $250 at WalMart. I was able to get Target to price match it, and then had a $50 gift card so I was only out $200, plus $100 for the Apple Pencil and another $40 for the case. For $340, it is hard to imagine getting the same feature set and performance with another device.
What I have found since owning this device is that I use this a lot more than I thought I would. I am not a fan of just surfing the internet on my phone, unless that is all that I have. But the iPad has a large enough screen that it is much easier to do. I use the iPad daily when I come home to just surf the web, skim through Reddit and Facebook, and stream shows while I am cooking. It is lighter and easier to do this with than breaking open my laptop, and again, saves my forearm from even more typing.
Getting back to the comparison with the Kindle Fire 10 HD (and really any edition), application support. There is really no comparison here. The iPad is far and away better than any Fire OS device. Fire OS is based on such an outdated version of Android, that there are applications that just don't work. Add to it that you have the terrible Amazon App Store and otherwise have to side-load apps or the Google Play Store, and you get a woeful experience with apps. I found that side-loading the Play store of the Kindle Fire 8 HD slowed that tablet down to virtually unusable, so I never did this with the Kindle Fire HD 10. Without side-loading, the Fire OS doesn't have access to any Google apps, or even a browser other than the basic Silk Browser, created by Amazon.
Meanwhile, the iPad has access to all of Google apps, and anything else you could want. Every streaming app works. Microsoft apps are there if you want them. I do not have to think about whether I will be able to find something I am looking for.
A few other things that just make it more solid: The Night Shift feature is better implemented, where you can better control the tone. The functioning of the OS is more modern and polished. The metal body feels better in the hand and higher quality. The screen ratio is better for a tablet, though the Kindle Fire 10 HD is better when streaming the 16:9 content. Apps are well optimized for the tablet form factor. And I can casually sketch and doodle.
I use this device a lot more than I thought I would, and for $340, it is an awesome device. For $200, without the pencil and cover, it was a no-brainer. And if I were purchasing one now, the bigger screen and option for a Type Cover would be great. I would consider using it as my travel device to write articles. While I could not justify the purchase of an iPad Pro, I could probably justify the iPad Air, and a regular iPad is a no-brainer if you are looking for a tablet. The Kindle Fire 10 HD will likely to my child when he is finally old enough to want something.