2020 Custom Built Tower
December 31, 2020
In 2002, I went to college with the old family Gateway computer. It ran in Intel Celron CPU and only had 128Mb of RAM. The computer came with Windows 98, but I installed Windows XP. Windows XP was too much for the computer and I quicklly realized I would need something more if I wanted to play games or even run Windows XP itself. Every since I have consistently had a personally built desktop. I have gone through a lot of different builds throughout the years, starting small with an Intel Pentium 4 CPU and was super excited when I finally had a board that support AGP graphics cards.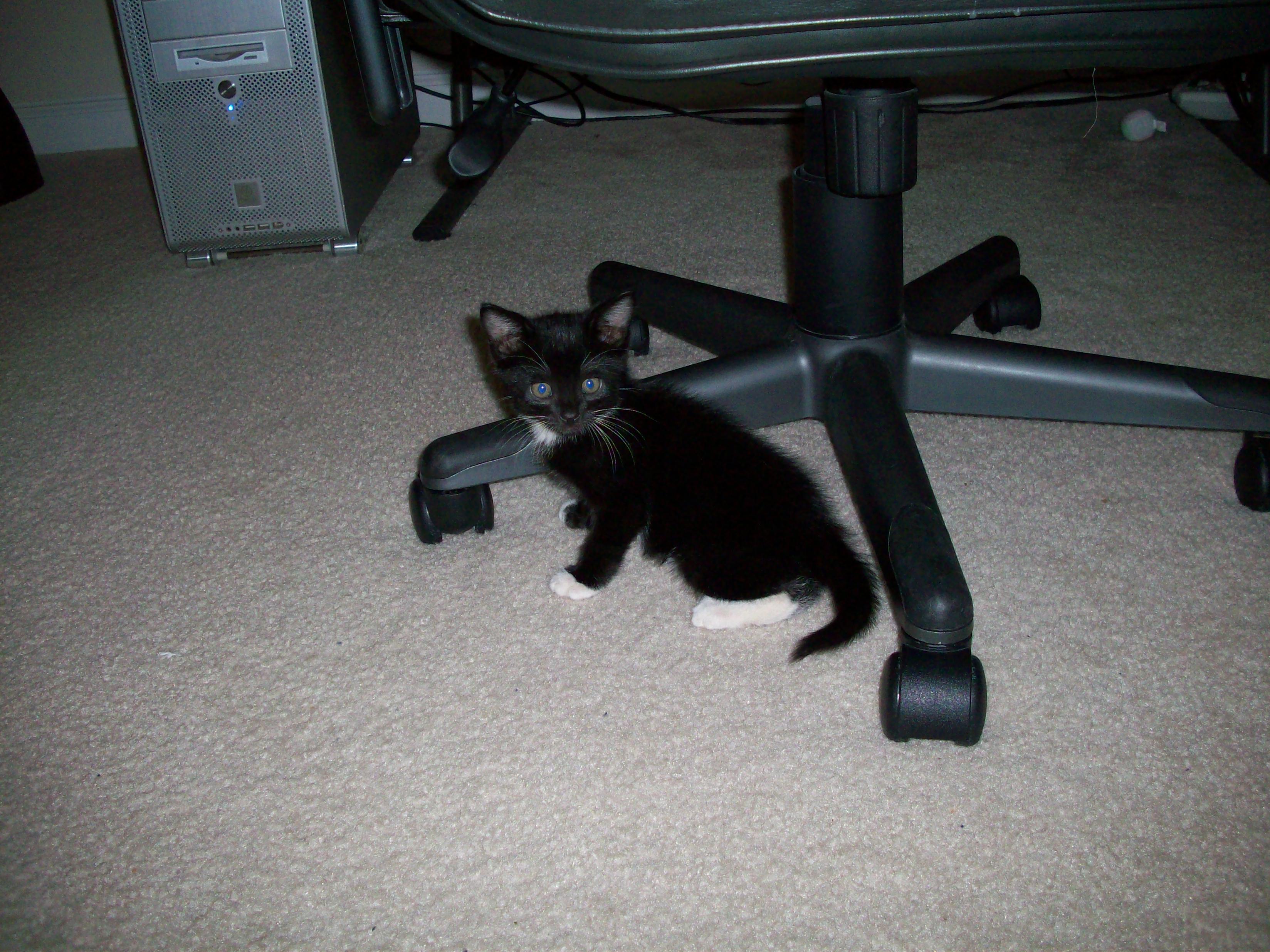 Cute kitten aside, you can see the Lian Li computer case in the background at my first apartment. With that build I was using an AMD Athalon 3-core CPU , a Sapphire Radeon HD 5770 graphnics card, and probably 4Gb of RAM. The case itself was great and the Mac style build quality was something I was looking for. I cannot say my cable management at the time was on point, but this case did not have a window in the side. Trying to go back and find pictures of my old computers was far more challenging that I thought it would be, and this was the best shot that I could come up with.
I sold that computer when I fell on some hard times and needed the money. That left me without a desktop computer for a while, until the itch to build a new computer hit me again in 2012 and I wanted to be able to play Skyrim. I purchased an AMD Phenom Quad-core CPU, 8Gb of RAM, and a Sapphire Radeon HD 6850 graphics card, encased in a basic black case. Nothing fancy, but it got the job done for years.
Six years later, in 2018, I finally decided to upgrade my desktop computer. I purchased an AMD Ryzen 7 1800X, 16Gb of RAM, but kept the same 6850 graphics card. All this was combined in a Sharkoon case. A new laptop was more important to me as I was getting more into web development. I spent time working on development while on the couch, next to my wife, and having a setup where I could plug my laptop up and use dual screens, and unplug it to use mobile was most important. For gaming, I had an XBox One. The graphics card upgrade was put off until now.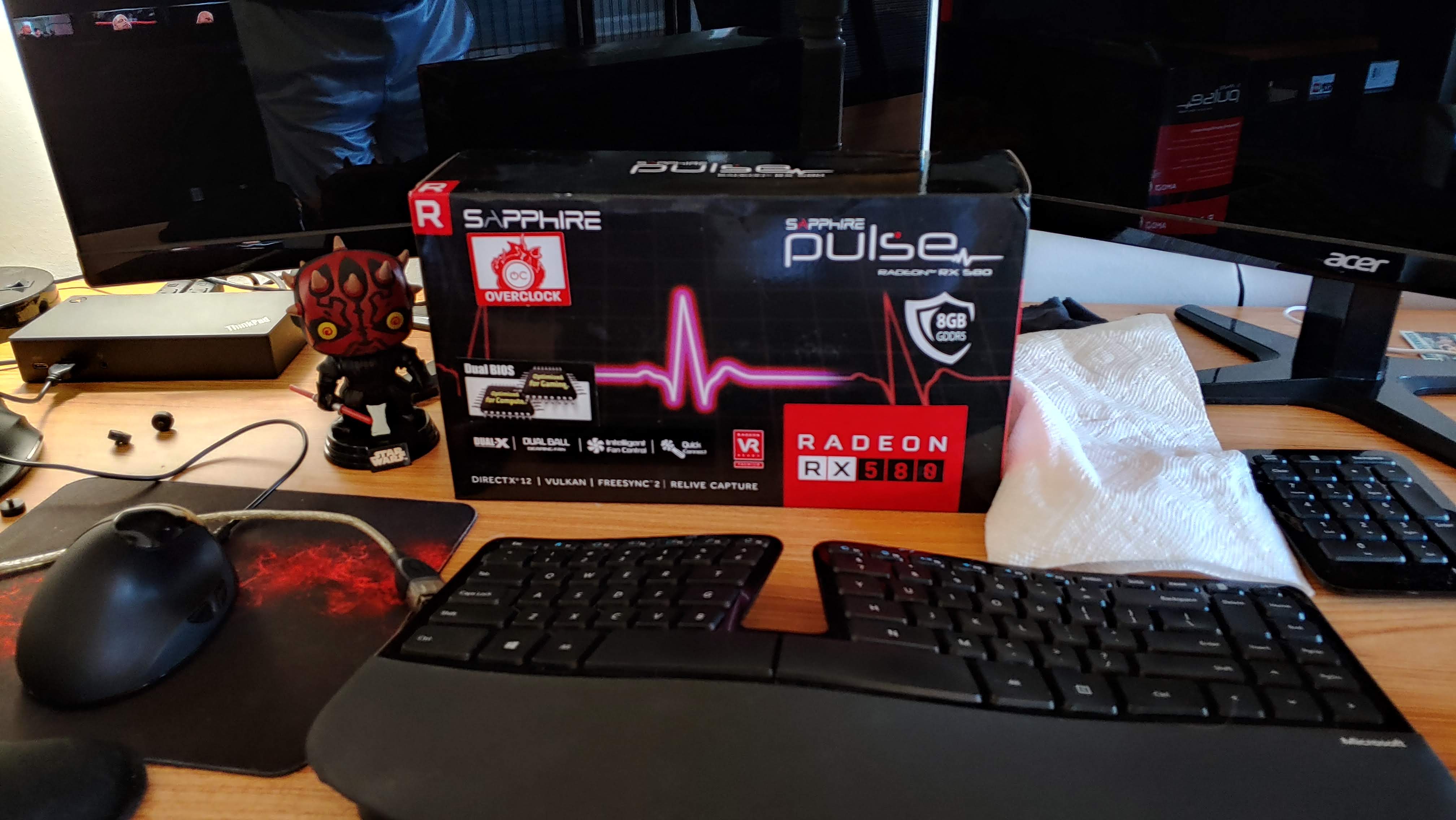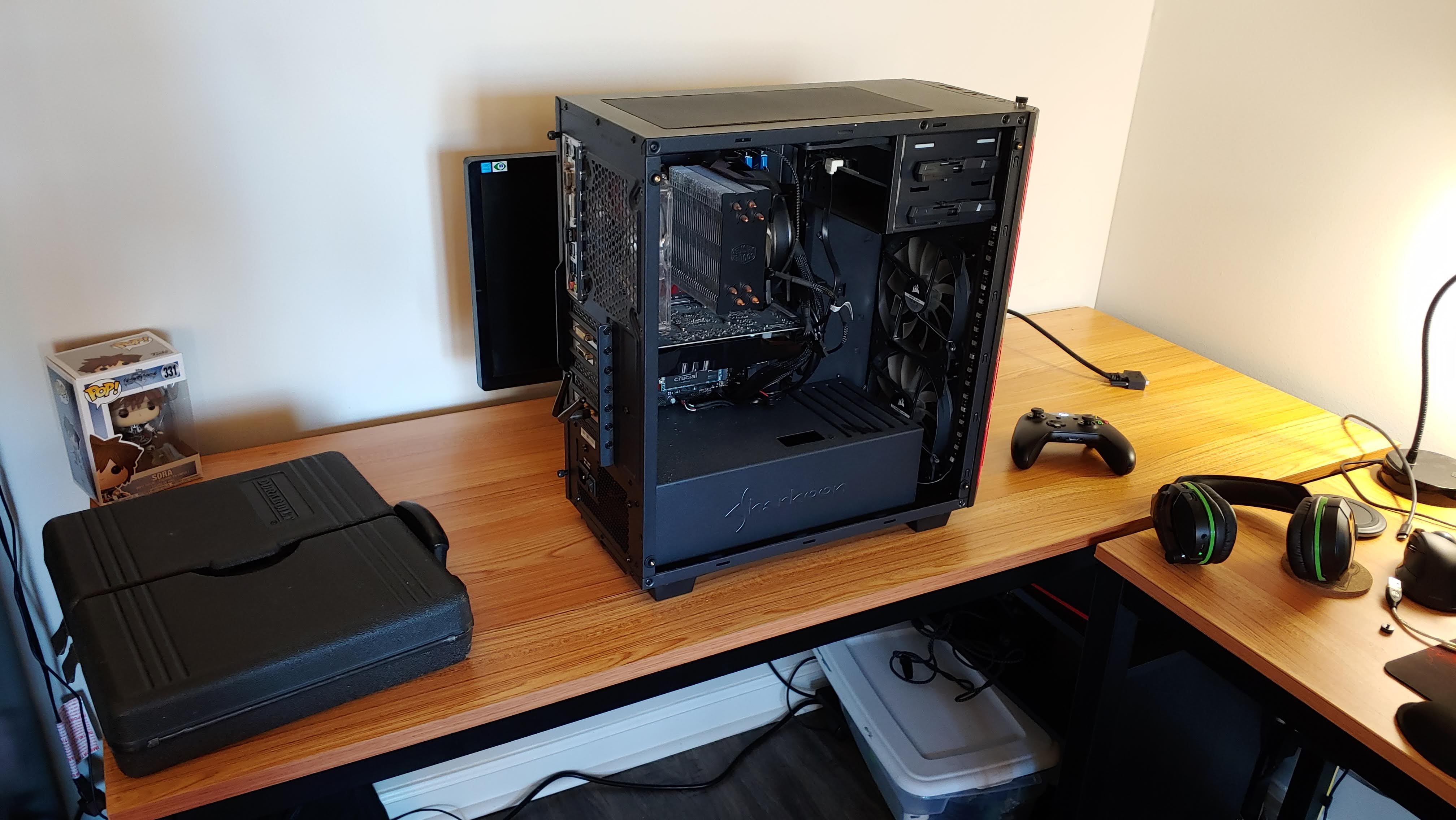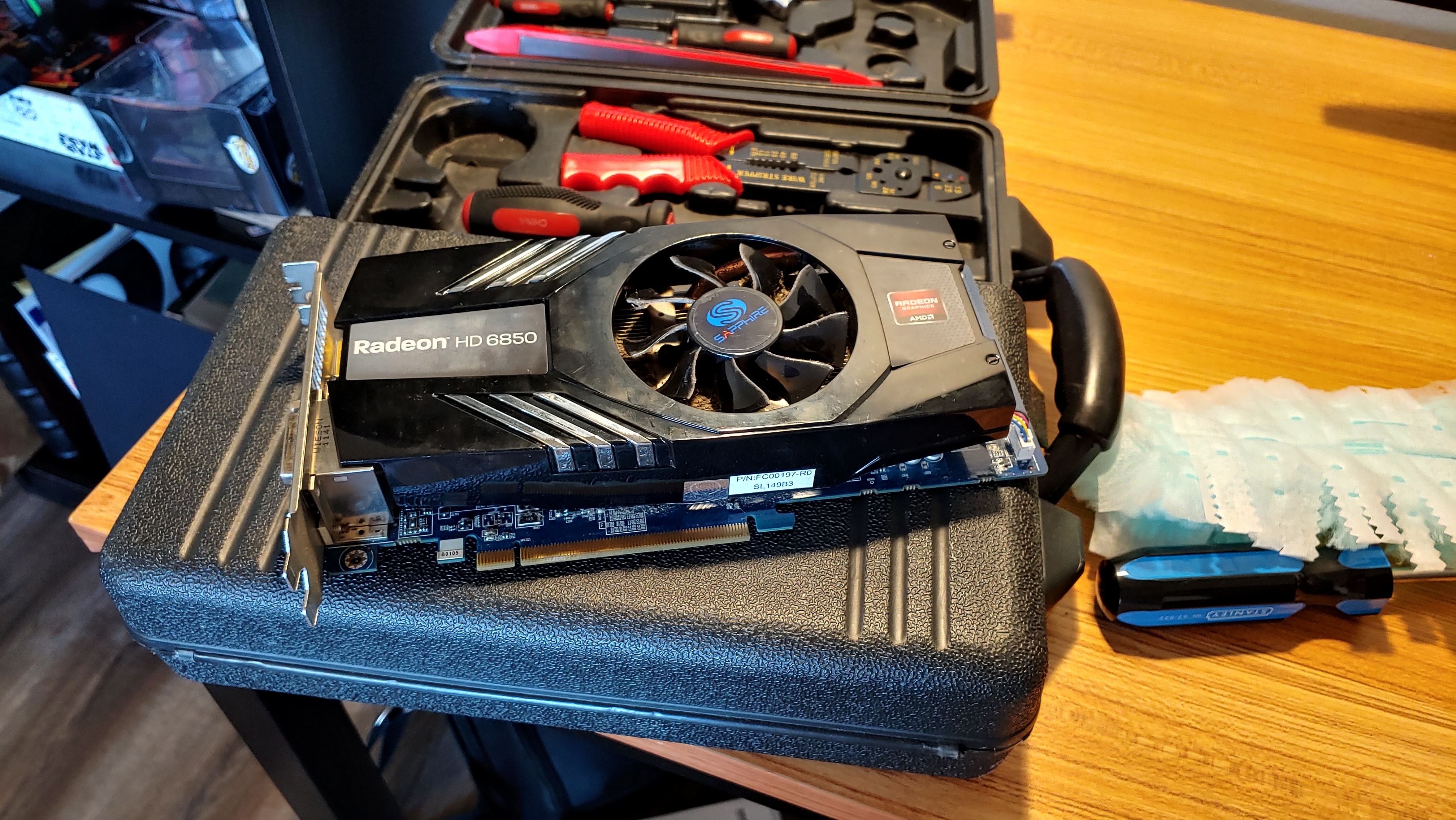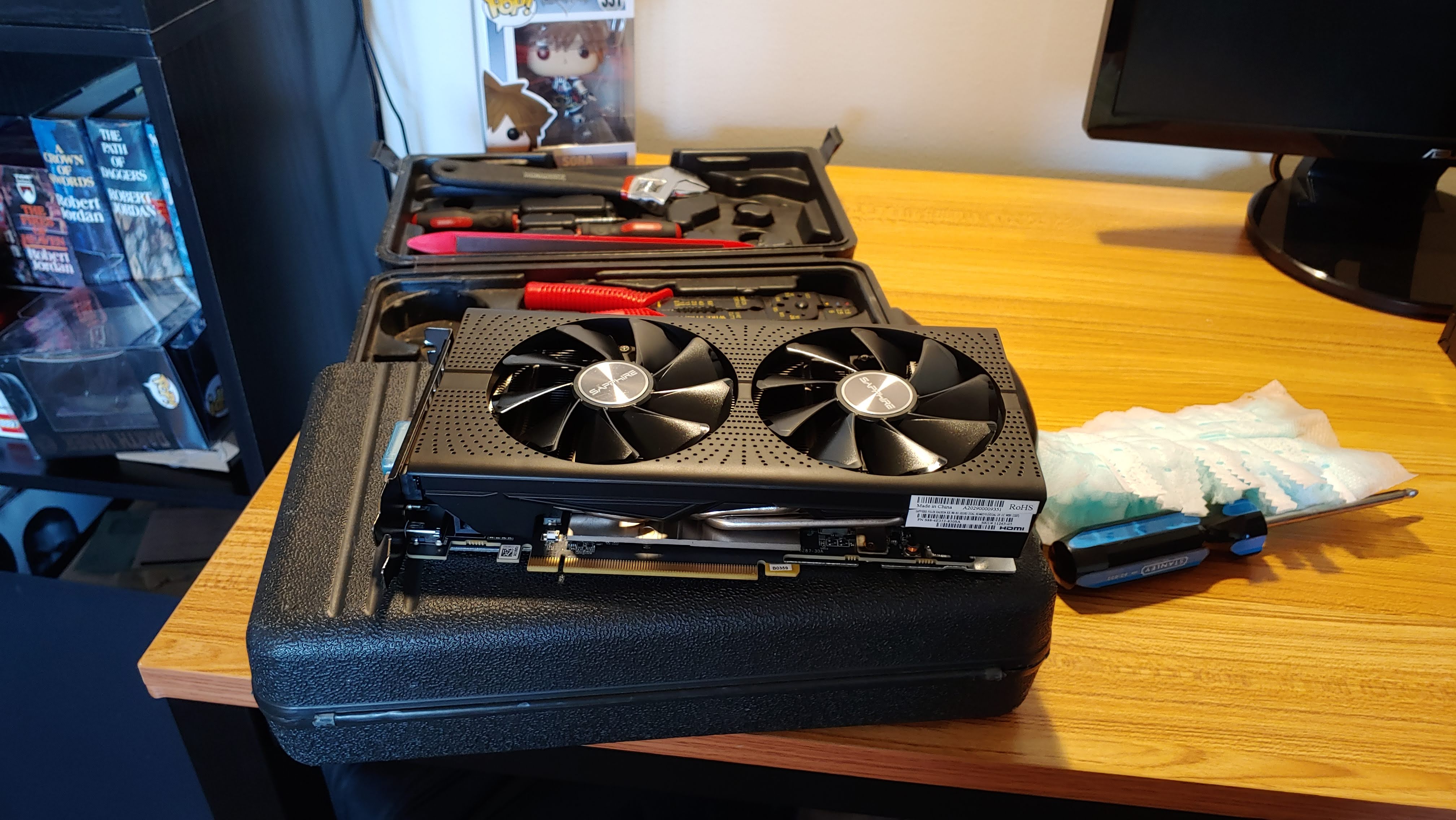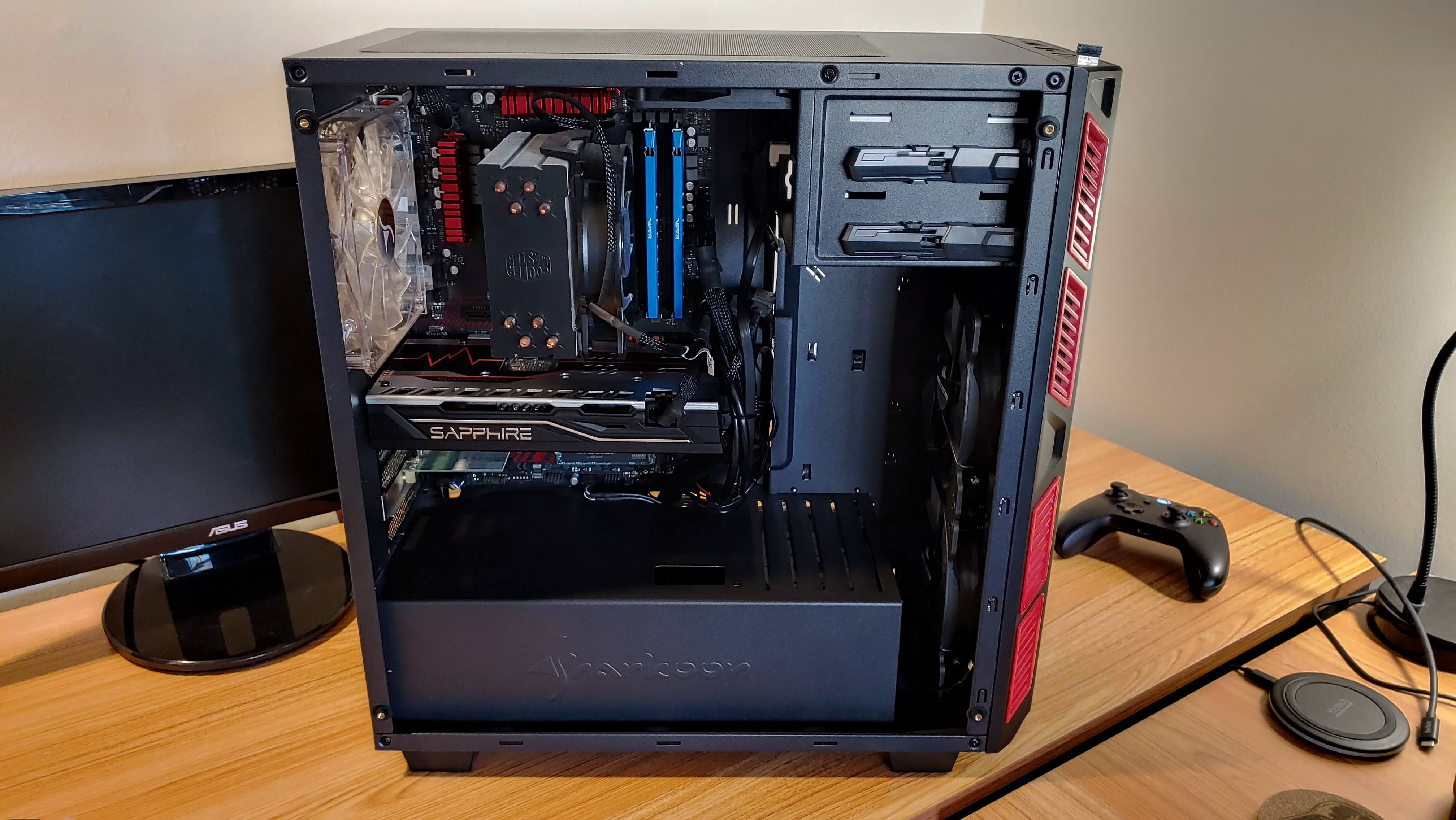 The installation was super easy. I anticipated needing to improve my cable management, thinking that this card would be longer that the 6850, but it was not. The card fit neatly in place.
The Radeon RX 580 was released in 2017; it is not the most up-to-date, but for me it is a huge improvement. It is at least six to seven years more recent than the previous card I was using. I am super happy to have a newer card and look forward to testing it out. While I am unable to do a lot of gaming any longer, I plan on setting asside some time to get something newer and test the card. Eventually I would love to get a VR headset and try it with that.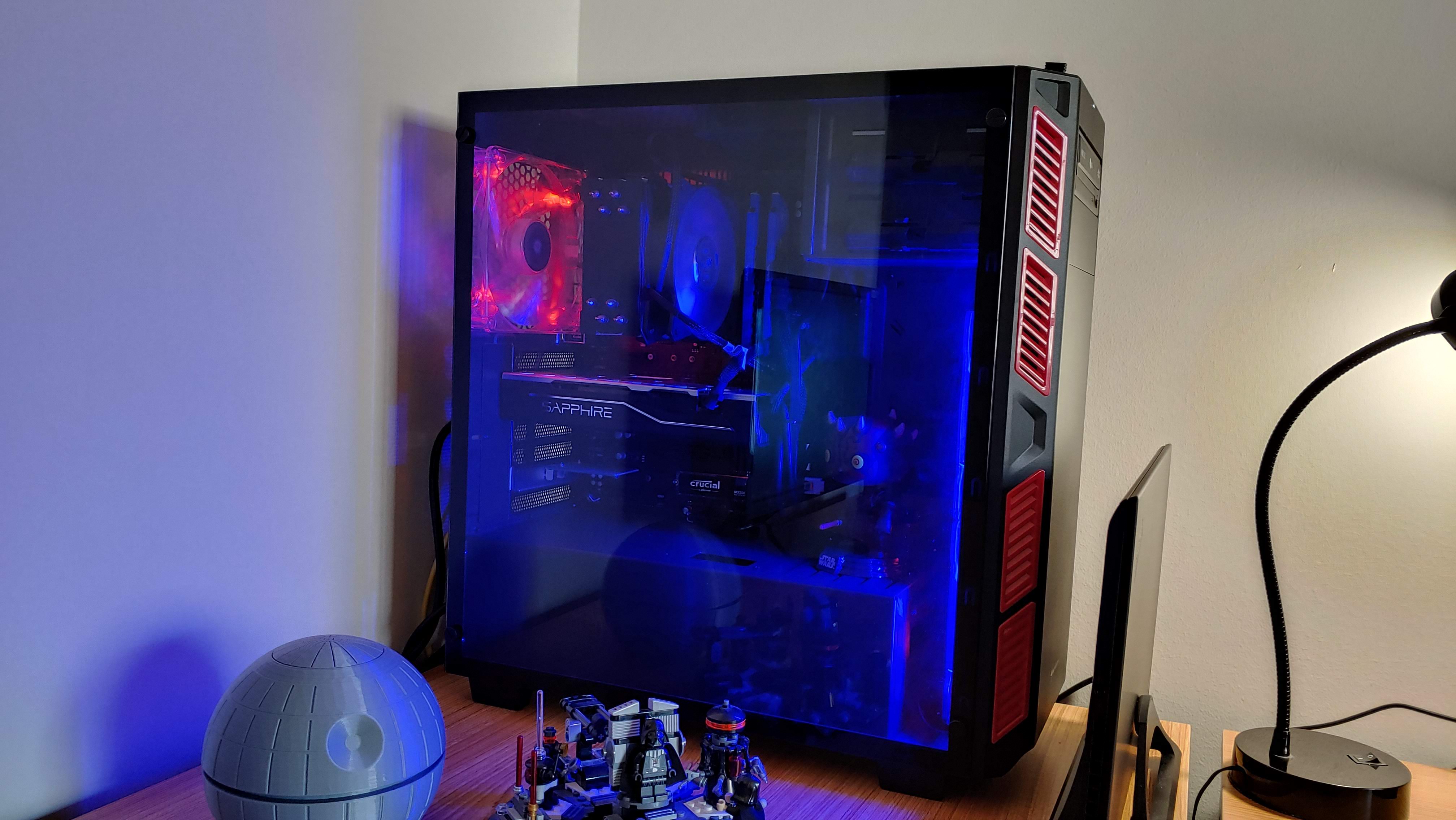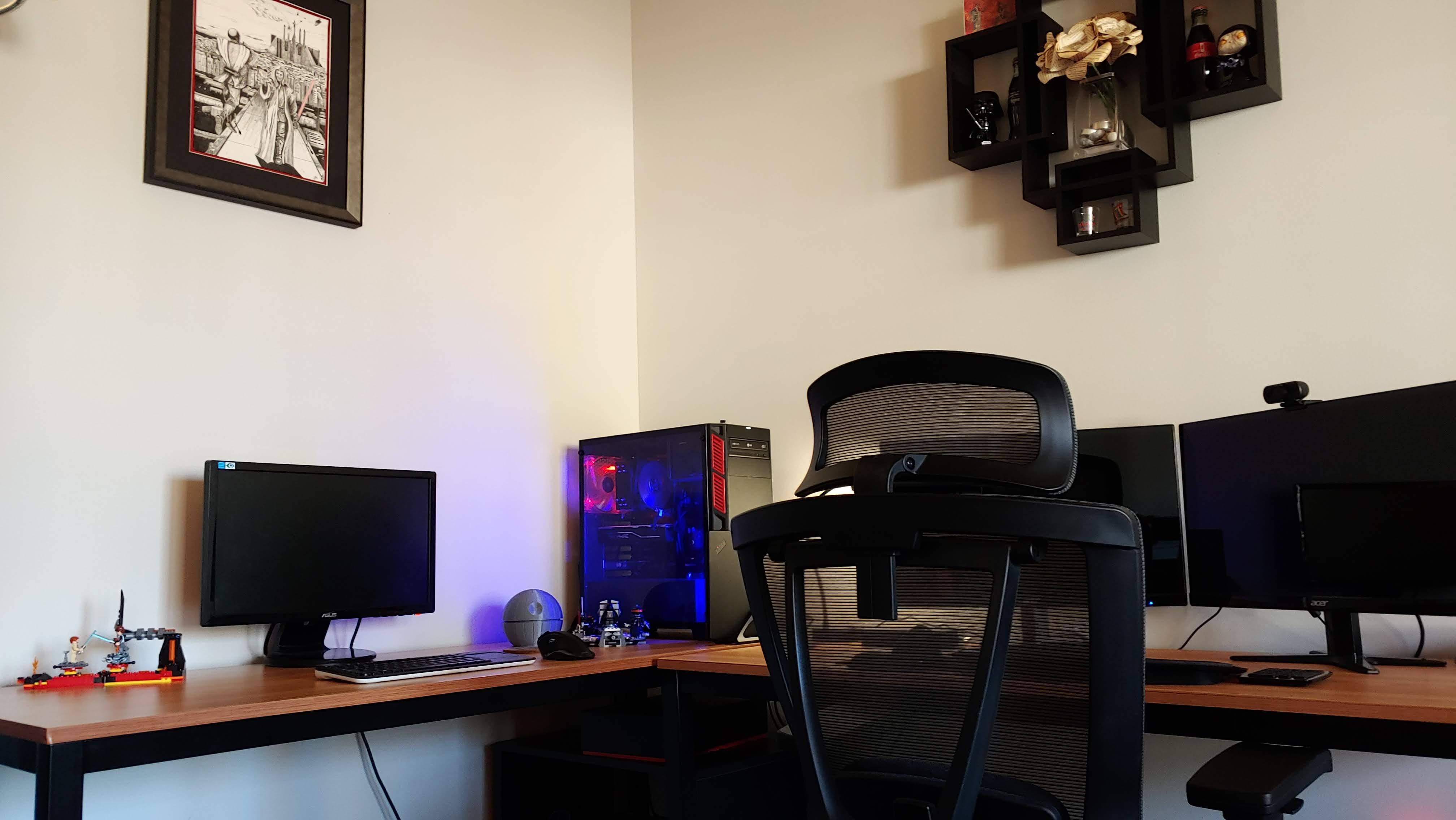 Right now the tower is hooked up to the small screen on the left. I use the dual screens for the laptop setup and do not want to go back to KVM switches. Eventually I will get a newer screen for gaming, but my first upgrade on screens will come to the laptop/dock setup. I use my laptop a lot more, and that setup also supports my work laptop for when I work from home. Another thing occured to me while writing this post. I have been using AMD processors and graphics cards almost a decade. And specifically, Sapphire graphics cards. I have to recommend their cards given my history with them.