Acer Nitro 5 17.3" 2020 Review
May 9, 2021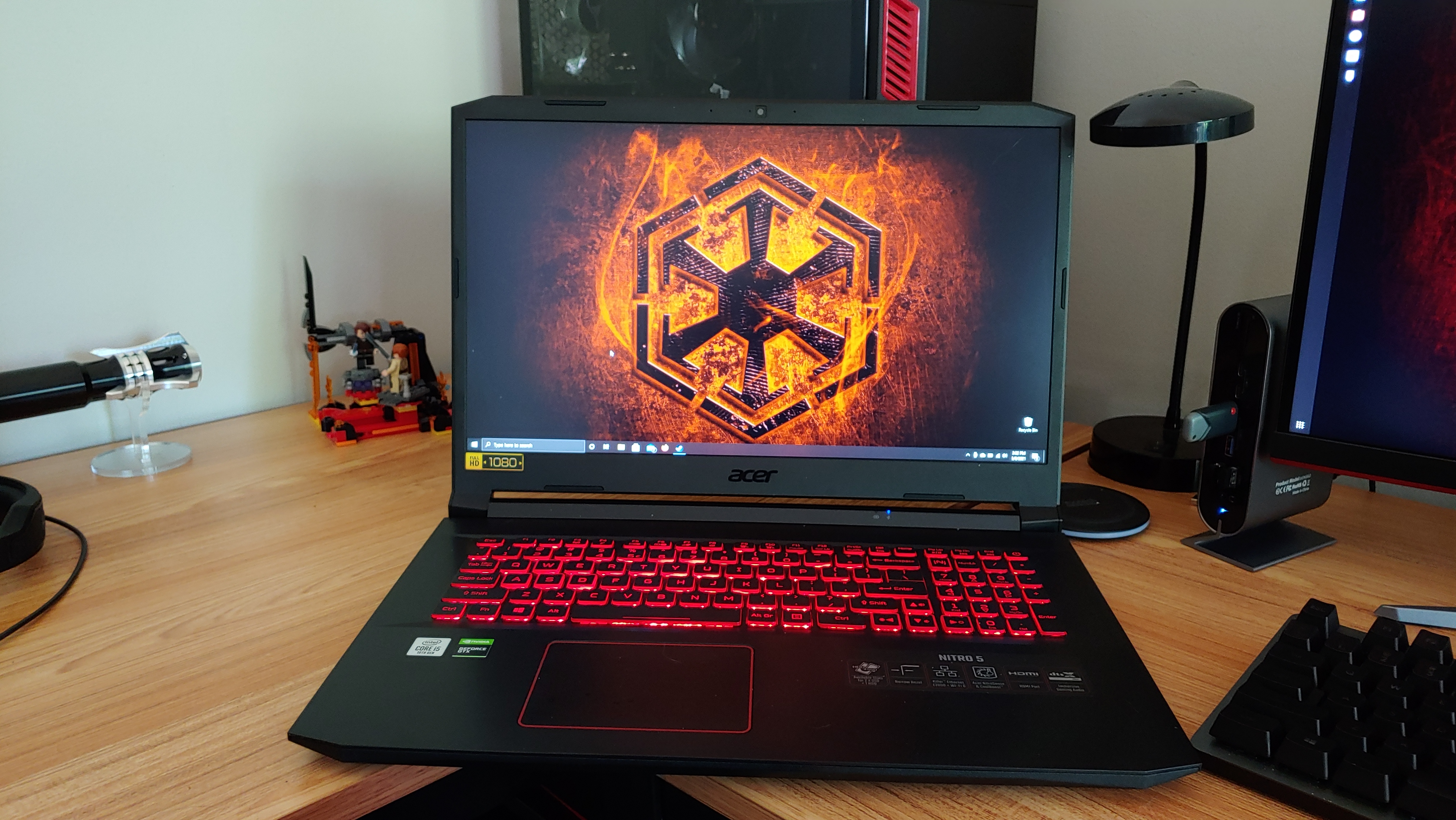 I was originally going to write a multi-part series on this new laptop, including a first impressions and then review article, but I started using the laptop regularly for gaming and neglected writing the article until now. Since I have been using the laptop for over a month, I am just going to write the review.
Finally, I bit the bullet and purchased a gaming laptop. While I have other devices to play games on, Playstation 4, Xbox One, and a gaming desktop, I have done some assessment of why I find so little time for gaming and determined that being able to play a game on a mobile platform, while sitting on the couch next to my wife while she watches TV and is also playing a game on her Switch, is the best way for me to get some gaming in.
When deciding to purchase a gaming laptop, I wanted to spend the least amount of money possible and still get something decent. I play older games and have spent a lot of money on other gaming systems and computer setups, I just could not personally justify spending well over $1,000 on yet another laptop. Anyone who has read previous articles can derive that I have four laptops already, and a desktop computer, along with two desk setups at home with monitors and docking stations. Adding more computers to the house always gets some sideways looks. So, I settled on a refurbished, budget gaming laptop, the Acer Nitro 5 with the 17inch screen for a little over $700.
Hardware
Let us start with the hardware. The outer shell is all plastic. There certainly is no premium feel to this laptop. The version I got came with an Intel Core i5 processor, 8GB of RAM, a 500GB NVMe SSD, and an Nvidia GTX 1650 graphics card. One important thing about this laptop is the room for expansion. I purchased an extra 8GB of RAM and installed it the day it arrived. There is also a second M.2 slot and space for a regular SSD. While I do not require the extra room yet, I could see where it will be useful.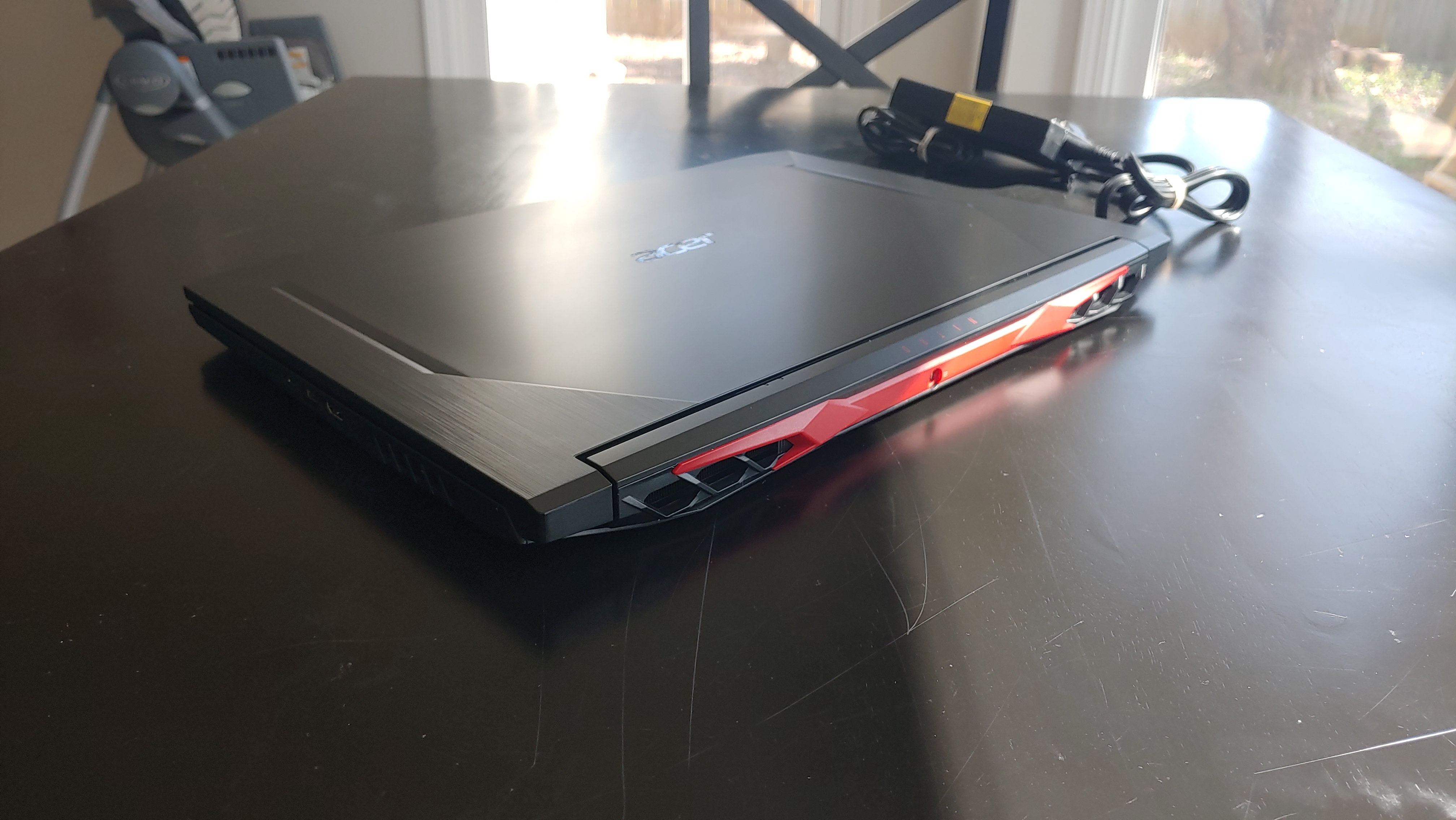 Port selection on the Acer Nitro 5 is about perfect, but there is one exception that I have felt. First, the three USB-A ports have been great for connecting external keyboards, controllers, USB storage, etc. Most of my gaming so far has used a controller, so I am glad I can connect this without needing a dongle. The last two ports of interest are a headphone/mic jack and a USB-C port. The 3.5mm headphone jack works well and is needed. The USB-C port is far less useful than one would hope. There does not appear to be any charging capability, nor will it do video out. I have a couple of USB-C docks that I use for both my work and personal ThinkPads. I am used to being able to use a single cable to connect everything. The only thing I can do with the USB-C port on the Acer Nitro is connect the keyboard, mouse, and headphones. I still have to connect the screen through HDMI and the power connector, which I will mention here, is on the back of the machine. This is a great place for the power connector, as it makes it easy to keep connected while gaming with the laptop on your lap.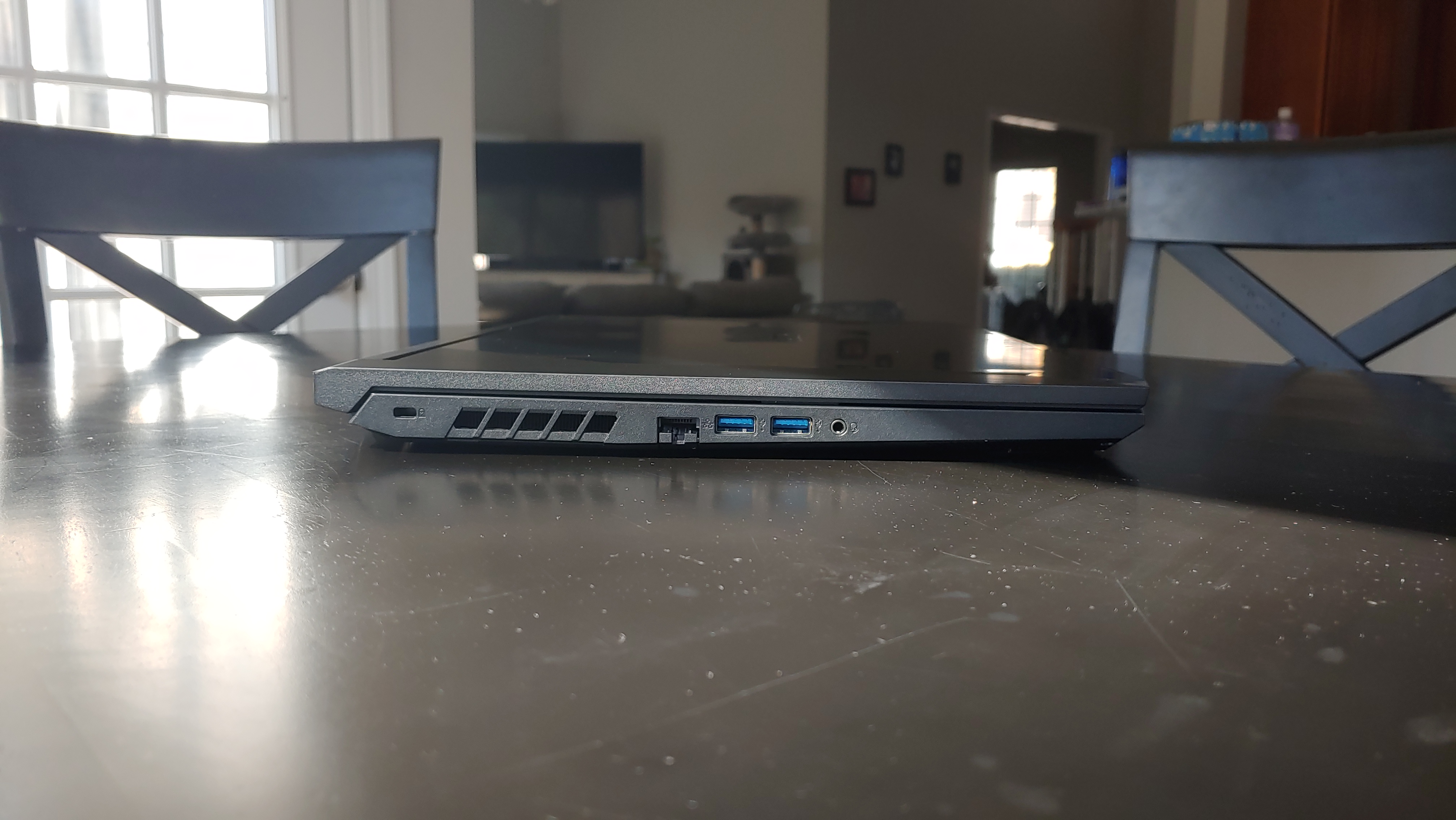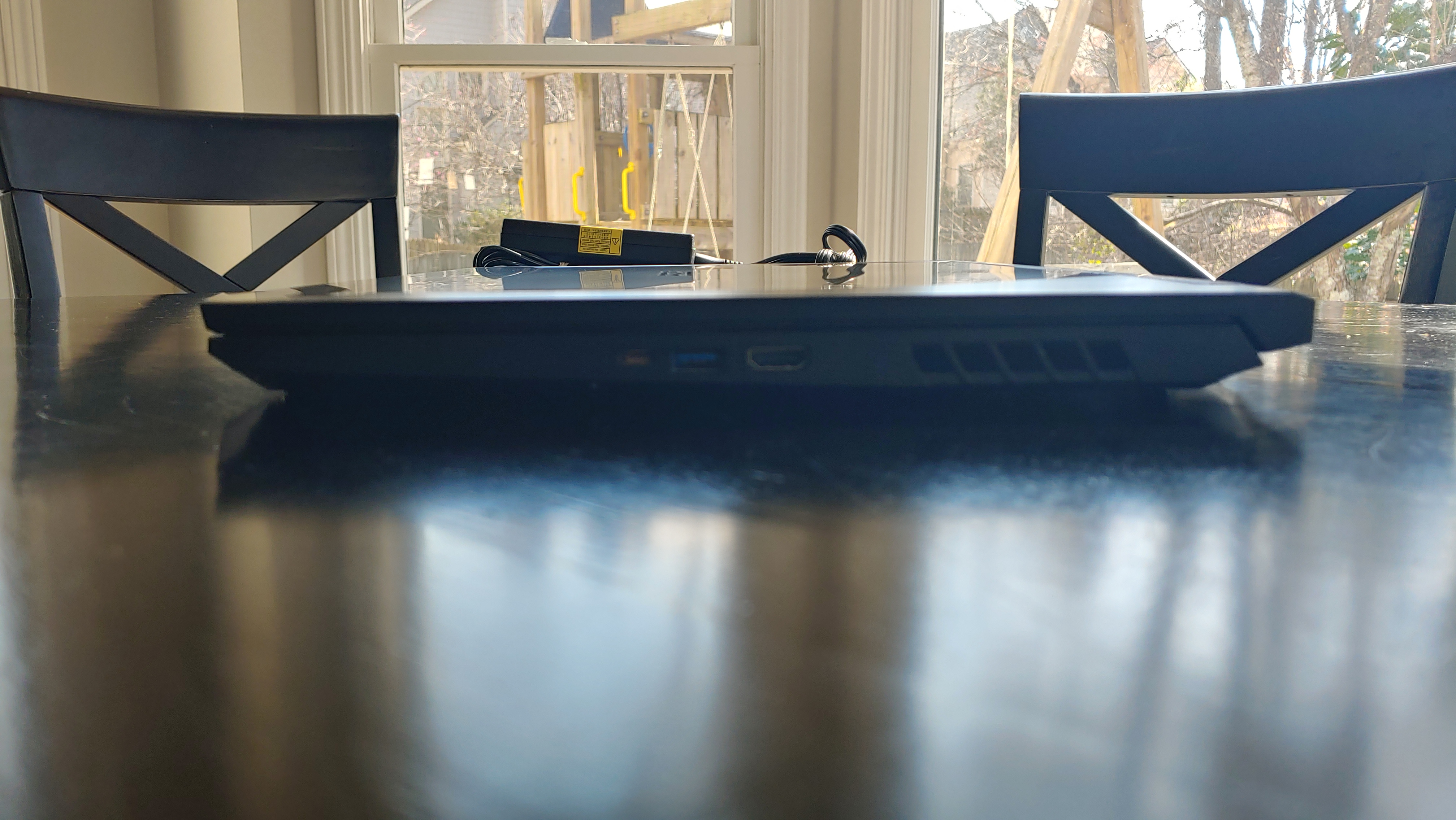 And you will want the Acer Nitro 5 plugged in most of the time. The battery life on this laptop is terrible. I admit, I am used to integrated graphics on laptops, and I normally get six to ten hours of battery life, but this gets about two to three. Even when just doing productivity-related tasks, battery life is bad. I went into this expecting poor battery life though. Having a dedicated GPU will do that, as will a 17inch screen and that this is a budget gaming laptop, so they scrimp in places.
The screen is also a mixed bag. The screen is 17 inches at 1080p. Having a 17inch screen is awesome. While it makes this laptop large, to the point where I barely consider it mobile, it makes gaming more immersive than a 15inch or smaller screen. When viewed on its own, the screen looks nice. It is not super bright, but the colors look nice and the matte finish means there is not a serious glare. But comparing it next to the screen on my ThinkPad X1 Carbon, or the AOC Gaming monitor, and it quickly becomes obvious that color replication is not good, and colors seem washed out. To be fair, both of those screens are 2k resolution, with the ThinkPad being 14 inches, and the AOC monitor measuring 27inches. The ThinkPad has 500nits of brightness, and boasts 100% Adobe RGB color gamut, while the AOC monitor boasts 100% sRGB color gamut. The Nitro 5's screen is also a 60Hz refresh rate, which is fine for the graphics card included, and for the games that I am playing. If I want something better, I will hook it up to the gaming monitor.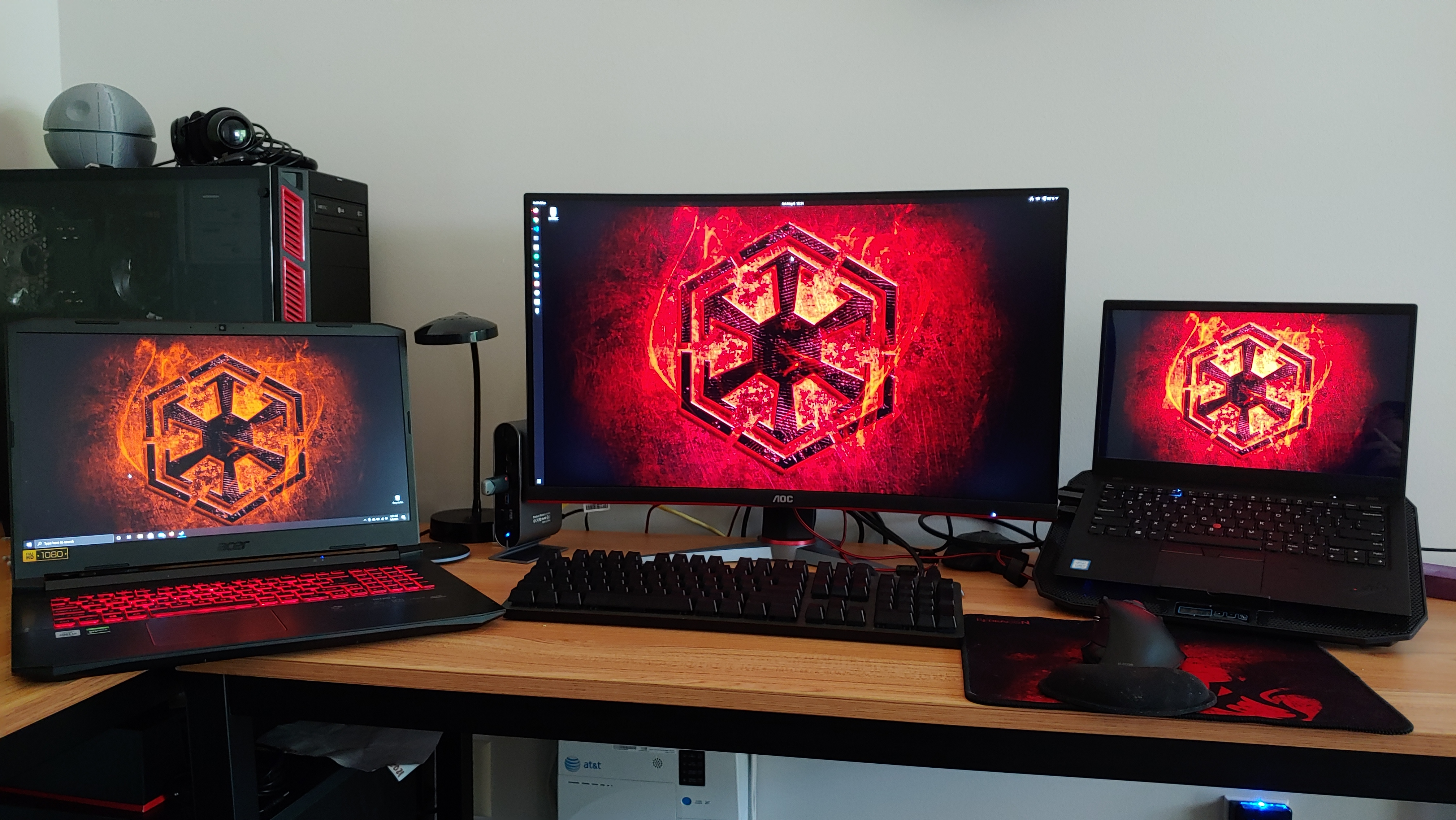 The keyboard is serviceable. The keys are a little mushy compared to the keyboard on my ThinkPad, but ThinkPads are best in class keyboards. They are stiff enough, and I have used worse keyboards. The keys are a little small as Acer is fitting a full keyboard on this, including a number pad. This is nice if you are going to be working with spreadsheets. So often, when using my work laptop when not connected to a desk setup, I find myself wishing I had a 10key num pad. This laptop has it, which if I were using it for spreadsheets, would come in handy, but I am not. The backlighting is red, and that is all. You are not able to change the color, but that is not a terrible thing. Red is best in no ambient light situations and the red does a fine job illuminating the keys. I appreciate the multiple levels of illumination, something that the ThinkPad does not have; it only has two.
Another area where Acer cut is the speakers. These things are bad a key reason you will want to get a nice pair of headphones. For starters, they are weak. While they can get loud enough to hear over running water while doing some dishes, there is little in the way of bass and they fire downward, potentially muffling the sound. They are laptop speakers, and if someone is going to be using a laptop like this for gaming, they probably will use external speakers or headphones.
It comes with an Nvidia GTX 1650Ti with 4Gb of VRAM. So far this video card has performed well, but I have not pushed it much. I have played Fallout 4, which should play well on this computer considering it is an older game. And it does at that. I have easily played the game at 1080 resolution with everything on high and had little issue. Frame rates have remained consistently playable and load times have not been crazy. I notice that the load times when exiting a building into the world tend to get a little slow, especially when the laptop heats up. This laptop can get hot, and the fans really kick on. I do not notice an impact on performance when playing the game, but the laptop does seem to be working. It is a lot better when playing with it on a cooling pad. I have also hooked this laptop up to the AOC gaming monitor and played at 2k; everything runs fine. The game looks great and plays smoothly. I have always had the laptop on a cooling pad while playing at 2k, especially because then the laptop has been closed and seems to retain heat more in that position. I also hooked the laptop up to a 4k TV, and at that resolution, there was a definite framerate drop. This card, in this laptop, does not handle 4k resolution for this game well. I plan to try other games, but I am thinking I would need to go further back into the past to run games at that resolution.
To round out the hardware, there are the bezels, which are thin on the sides, but not impressively so. The top bezel is a little chunky. The webcam is a 720p camera, which is fine. I do not plan on really using it. Overall, it looks like what it is, a gaming laptop. If you want something that looks more professional, you will want to spend more money and look somewhere else.
Software
The Acer Nitro comes with Windows 10 Home. This means that it comes with any of the bloatware that comes with Windows, so you will spend some time deleting garbage shortcuts from your Start menu and uninstalling programs. Acer loads a few other things onto this, including a Nitro utility program that allows you to control the fans. There is a dedicated key on the keyboard that will bring up this application, which I think is a waste of a key, but hey.
It came with Windows 10 version 1903, which quickly updated to version 1909. Then the upgrade to version 20H2 took a while longer to even detect. Once it was finally updated, it was good to go. Mostly it is time to uninstall software that I do not want and install the few things that I do.
On this computer, I installed Microsoft Office 365. I pay for this for my wife and decided to make use of the software. It is great to have Office on a computer that I use regularly again. The integration with OneDrive is welcome and useful. I am easily able to open documents in Word and find them through Windows File Explorer, and all my work is auto-saved. And then, when I would like to work on them on my Linux laptop, or the iPad, I can access everything through Office.com and the online applications, or the iOS apps. Having OneDrive and Office 365 has made working on documents across devices great and easy.
Steam is as easy to install as ever, and the primary application that I want on this computer. I already have a great games library through Steam and can quickly install all the games that I am looking to play. Installation of the games was quick once they were downloaded.
I also recently installed Kdenlive on this machine and did some light video editing. Video editing is not a task I have ever done before, so my usage is not a great barometer of how this laptop will fare. But I will say that it handled the little bit that I did well. I did a 1080 resolution video, 10 minutes in length, on battery power, in 12 minutes. I would not suggest doing much on the screen, since the color replication is not great, but it handles the encoding well enough.
Final Thoughts
The Acer Nitro 5 2020 17.3" laptop is a budget gaming laptop. It packs enough power to play games at 1080 resolution well, but skimps on things like the screen, speakers, build quality, and ports. I knew this going into the purchase, and for my needs, it is great. For the price, I cannot complain. This is just a solid laptop for the price, and it is a chief reason for me getting back into gaming. I will come back and update this once I try it with some other games.
There is one personal gripe that I have with this laptop, but I think it is something that I can solve. My USB-C dock is to the left of the monitor and needs to be at the moment for the ethernet cable. My ThinkPads have the Thunderbolt port on the left, making connecting the dock easy; the laptop sits on a cooling pad to the right of the monitor. On the Nitro 5, the USB-C port is on the right, so the cable does not stretch far enough. To use the Nitro 5 with the dock, I have to have the laptop open, plug everything in with it facing backwards on the cooling pad. Once everything is attached, I can then close the lid. This is a pain. But I think a longer ethernet cable will allow me to move the dock to the lright side of the monitor, making it easier to connect the Nitro 5 without all the hassle.
Update: I recently got a longer enternet cable and was able to move the dock to the right of the mointor. I am now able to put the Acer Nitro on the dock normally, and all of the cables connect. This set up is finally good for all of my laptops.